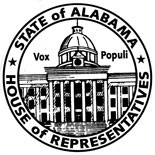 House of Representatives
DISTRICT NO. 6
Limestone and Madison County
State Rep. Andy Whitt (R – Harvest) released the following statement regarding his legislation that would provide a state tax exemption on federal Economic Impact Payments that were awarded in the wake of the COVID-19 pandemic:
"The federal Economic Impact Payments were intended to provide a needed lifeline to families and individuals who were financially impacted by the COVID-19 outbreak and to buoy our national economy during the coronavirus shutdown.
Collecting state taxes on those payments seems almost immoral when you consider the reasons they were awarded in the first place.
Many Alabamians are still struggling to find jobs, reopen their businesses, and recover the losses they suffered while our state and nation tried to limit the spread of the virus. Allowing them to know that state taxes will not be collected on these payments will provide them with an additional measure of relief, and, I believe, an additional boost to Alabama's economy.
Even with the pandemic, Alabama's coffers collected a record level of revenues in Fiscal Year 2020, so I believe we can easily provide this tax exemption without affecting state services, agencies, programs, or public education."
Andy Whitt
P.O. Box 306
Harvest, Alabama
(334) 261-0404
Committees
FINANCIAL SERVICES – VICE CHAIR
COMMERCE AND SMALL BUSINESS
ECONOMIC DEVELOPMENT AND TOURISM
LIMESTONE COUNTY LEGISLATION
MADISON COUNTY LEGISLATION